Harnett County 4-H, Coming Alive Outside
Find this page at:
go.ncsu.edu/readext?380034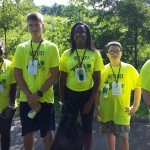 Harnett County 4-H has taken on the Come Alive Outside Challenge to create awareness, intention and opportunity for people to live healthier lives outdoors. During our Summer Fun program, we taught multiple sessions to teach youth skills to get them outside and adopt new hobbies than can last a lifetime.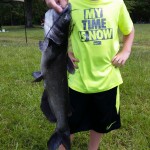 4-H members learned how to tie fishing knots, bait hooks and cast before going on a 4-H Sportfishing program. Some caught their first fish and some caught fish almost as big as they were! Really, the fish was almost as big as them. Others learned aerospace & model rocketry. They built and launched model rockets that reached heights of 600 feet.
Students loved our 4-H Outdoor Cookery session where they learned how to grill. They learned how to safely handle food, light a charcoal and gas grill,  cook on a grill, and plate a dish for judges. They also had to develop a rub or basting sauce for their meat which included beef, pork, chicken, and turkey. They also learned the proper temperature for each type of meat to be fully cooked to prevent food borne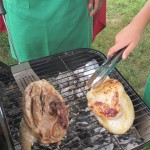 illness. Many students continued cooking on their home grills for their friends after the program ended.
The students came alive outside to learn about alternative energy with farm visits to local farmers who are making wise decisions for their pocket book and the environment. We visited a hog farm that captures the methane gas from the hog waste and burns it to heat a generator to make electricity. Another farm , working with NC State Specialist has designed a wood burning furnace to heat his green house and dry his tobacco that is so efficient, its has a positive carbon footprint.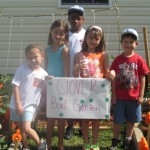 Our Cloverbud 4-H members who range between 5 and 8 years old designed and planted a 4-H garden at our office which they maintained all summer long. They brought old shoes and planted herbs in them and made a kids garden that was really amazing. This was a wonderful example of learning a skill that will keep them outside for a lifetime.
Our final Come Alive Outside event is the 4-H Sweetpotato Gleaning that will be held on October 17. Over 130 youth, families, and community partners will be helping glean sweetpotatoes  to help the food insecure in Eastern and Central North Carolina. We are hoping to glean over 20,000 pounds of sweetpotatoes in three hours. This is just a taste of what we have done. If you would like to learn more about Harnett County 4-H, Please contact Jackie Helton, 4-H Agent at 910-814-6027 or jhelton@harnett.org and he can help you come alive outside.